SAO1 - Design and build a new WordPress self-hosted website for hosting and organizing the annual Space Apps Ottawa hackathon
Project start and end dates:
2019-07-11 to 2019-09-16
Create an open source self-hosted (not WordPress.com) WordPress website to help us host and manage the annual Space Apps Ottawa hackathon (which we help sponsor and organize). Our current website is static html, CSS, and JS, and is hard to update and maintain. Use your skills and creativity to design and build the hackathon website using WordPress and free (open-source) plugins. Create a cool theme for the new site. Your work will be put to immediate use as Space Apps Ottawa's new public website!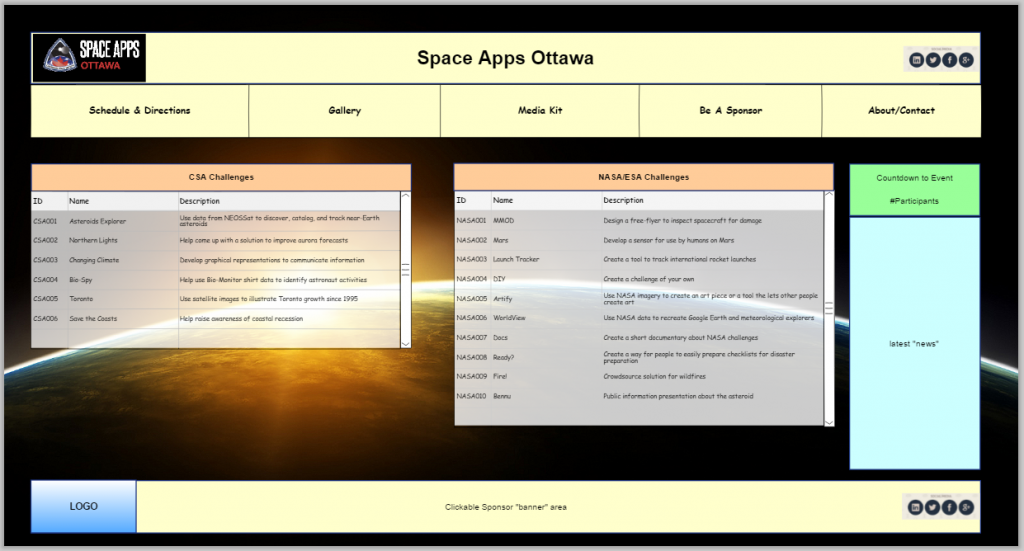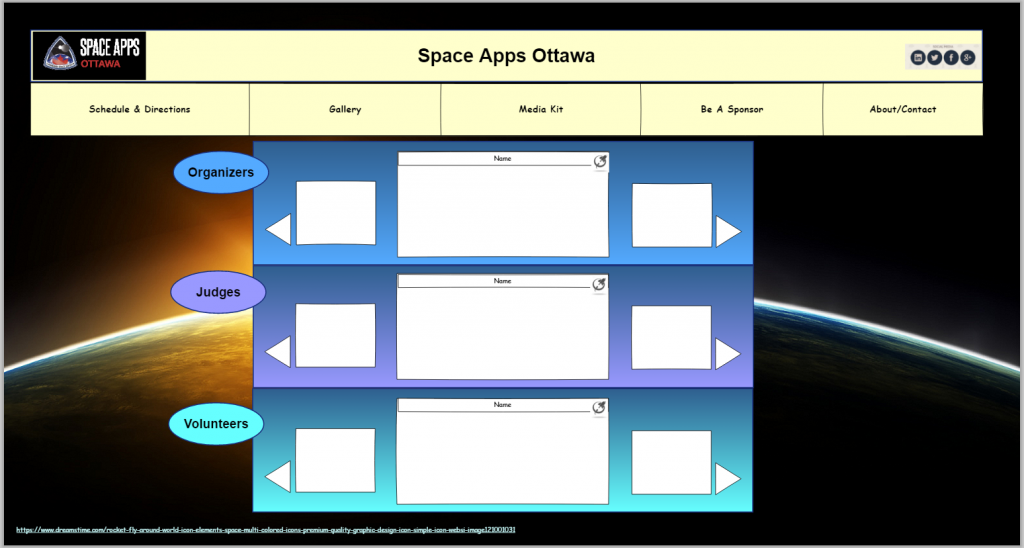 The Capella students helped us design the features, information architecture, and requirements for a WordPress website we will use to run our annual hackathon event. The students demonstrated enthusiasm, technical and product research skills, creativity and insight throughout the project, and that quality was evident when they presented their final report. They were always pleasant, professional, keen to understand our project goals and objectives, and willing to go the extra mile to help achieve them. In fact they provided value-add deliverables including sample coding, design sketches, and reports. Overall the team's result was of real value, and will be put to use immediately. I highly recommend their work.
We would like to thank Sam Maeder,Jeremy Bushnell, Kai Bouse, and the other students and teaching staff of IT 4990 Capstone course. *
* For privacy reasons, we only list people who gave us permission to do so. Did you contribute to this project? Contact us to be added!

NASA International Space Apps Hackathon is an intense 48-hour global weekend hackathon for developers, designers, engineers, entrepreneurs, astronomers and enthusiasts. Along with thousands of participants  in hundreds of cities around the world, Ottawa teams will work all weekend to solve NASA- and Canadian Space Agency-designed challenges that leverage spacecraft, celestial & science data.
Online (Minneapolis, MN, United States) 
Twenty-five years ago, our founders understood that working professionals not only are juggling it all—a full-time job, full-time family, and a very full schedule—but they also have an unparalleled drive to better themselves. Our founders recognized that technology had the potential to provide a quality education for ambitious adult students. The result was Capella, an award-winning online university with accredited programs that can help you reach your goals. On your terms. Riipen is your online platform for virtual project-based learning
Get hands-on support from our students through an in-class project or virtual internship.
In-class projects allow you to connect with one of our educators to embed your project into the students' curriculum. Become the real-life case study for students in the classroom!
Virtual internships are similar to in-person internships, except they are project-based with a clear outcome and the engagement is primarily done online.