DSS1- Design and build a new WordPress website to thank Riipen project contributors and showcase their work
Project start and end dates:
2020-02-03 to 2020-05-01
We would like to create a dedicated thank-you microsite, using WordPress.org platform. This website will display the projects the students have worked on, showcase their project results, and thank them for their contributions. They can also use this website as a reference for future employers and as part of their professional portfolio.
Your work will be put to immediate use as we thank and recognize our student partners and their contributions to our climate change impact and other projects!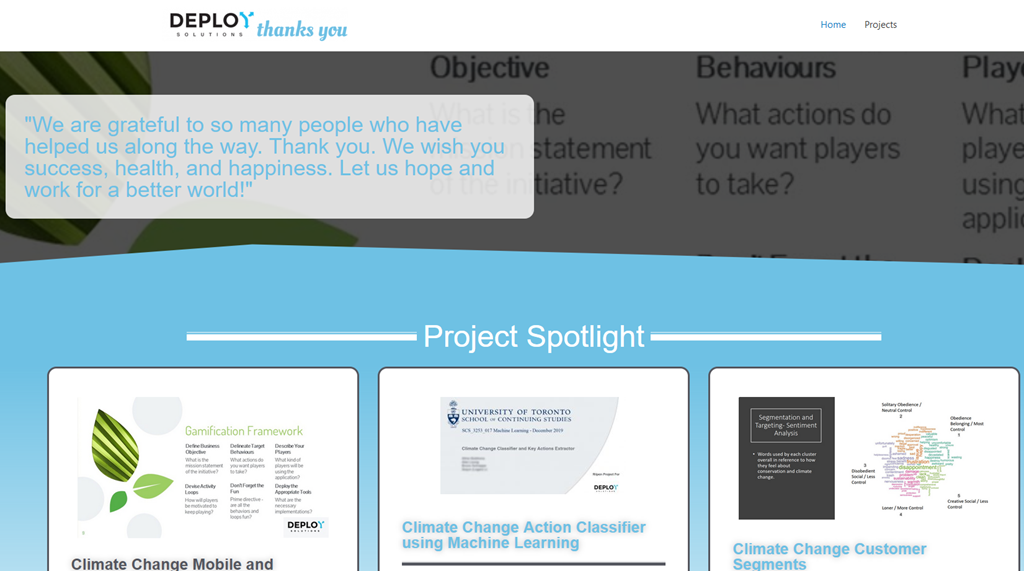 We loved both designs produced by the College of Marin students. One of the design submissions was chosen for use on this very website. We are thrilled that we can showcase the hard work of all our Riipen students and other contributors in such a beautiful way.
We would like to thank the students and Professor James Gonzalez of MMST123b – Web Design II course. *
* For privacy reasons, we only list people who gave us permission to do so. Did you contribute to this project? Contact us to be added!
Climate Change Impact Planner
When it comes to climate change adaptation and mitigation, we believe there is a critical communication gap between government officials, scientists, and experts ("trusted authorities"), and ordinary citizens. As citizens, we do not know what specific actions we can take to avoid, mitigate, adapt to, or recover from the effects of climate change in our personal situation (such as in our home and neighborhood). Even if we do act, trusted authorities do not know if we are following their guidance and cannot study the effectiveness of our actions. The anticipated product will use satellite Earth Observations, big data, and machine learning to identify past climate change impacts and predict future impacts. It will focus on end users and stakeholders (such as municipal governments or insurance companies) who need to understand and plan around climate change impacts without requiring them to know the underlying science or technology.
The College of Marin is a public community college in Marin County, California, with two campuses, one in Kentfield, and the second in Novato. It is the only institution operated by the Marin Community College District. College of Marin has been in operation since 1926. Riipen is your online platform for virtual project-based learning
Get hands-on support from our students through an in-class project or virtual internship.
In-class projects allow you to connect with one of our educators to embed your project into the students' curriculum. Become the real-life case study for students in the classroom!
Virtual internships are similar to in-person internships, except they are project-based with a clear outcome and the engagement is primarily done online.