SAO2 - Design and build a new Android mobile app for participants of the annual Space Apps Ottawa hackathon
Project start and end dates:
2019-10-08 to 2019-11-27
Create a mobile-friendly Android mobile app for participants of the annual Space Apps Ottawa hackathon (which we help sponsor and organize). Use your skills and creativity to design and build the Android app. We can't wait to see what you come up with! Your work will be put to immediate use in this year's Space Apps hackathon in Ottawa, and possibly by some of our sister cities in the future! The mobile app will be released under the open source Apache 2 license which enables others (including yourselves) to use it for any purpose, with attribution. You will be able to showcase this app in your portfolio should you wish.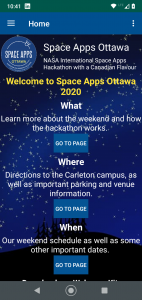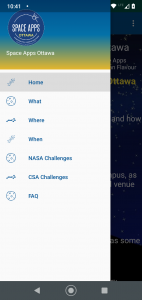 McNeese students produced a mobile app for our annual Space Apps Ottawa hackathon event. This app dynamically loads event information from a section our website and will improve our participants' hackathon experience greatly. The McNeese class and their professor Bei Xie did a tremendous job identifying and exploring the requirements, and produced the app in multiple iterations that allowed me to provide regular input while continuously progressing the development. Working with them was a smooth and professional process, and we hope they are justifiably proud of their great work, which does them credit!
We would like to thank Deependra PC, Binayak Yadav,Sagar Pandeya,Prawal Pokharel, Prabin Shrestha, Hailey Hanson, Christian Reynolds , and the other students and teaching staff of CSCI409 – Introduction to Mobile Application Development  course. *
* For privacy reasons, we only list people who gave us permission to do so. Did you contribute to this project? Contact us to be added!

NASA International Space Apps Hackathon is an intense 48-hour global weekend hackathon for developers, designers, engineers, entrepreneurs, astronomers and enthusiasts. Along with thousands of participants  in hundreds of cities around the world, Ottawa teams will work all weekend to solve NASA- and Canadian Space Agency-designed challenges that leverage spacecraft, celestial & science data.
Lake Charles, LA , United State 
McNeese State University is a public university in Lake Charles, Louisiana. Founded in 1939 as Lake Charles Junior College, it was renamed McNeese Junior College after John McNeese, an early local educator. The present name was adopted in 1970. Riipen is your online platform for virtual project-based learning
Get hands-on support from our students through an in-class project or virtual internship.
In-class projects allow you to connect with one of our educators to embed your project into the students' curriculum. Become the real-life case study for students in the classroom!
Virtual internships are similar to in-person internships, except they are project-based with a clear outcome and the engagement is primarily done online.