CC20 - Recommend a "trust and collaboration framework" for a climate change application
Project start and end dates:
2021-01-05 to 2021-04-12
We are designing a climate change impact planning software that helps Canadian citizens take personal action to avoid, mitigate, and recover from climate change impacts. Examples of recommended actions include steps to recover from home flooding damage, or how to prepare the family for an evacuation during a forest fire. 
 These actions need to be provided and managed by "trusted authorities" (which will include faith groups, NGOs, scientists, academics, as well as government officials). The definition of "trusted authority" is obviously political and contentious (our working definition is included below). 
Please research and recommend a "trust and collaboration framework" – a set of processes that we can use to identify and verify the "trusted authorities" and the recommended actions they provide. When its comes to producing climate change actions expect trusted authorities from different organizations will have to work together in a particular region; therefore we also need a framework for them to collaborate (for example request and receive feedback on recommended tasks, and gain some kind of approval before those are published to the citizens).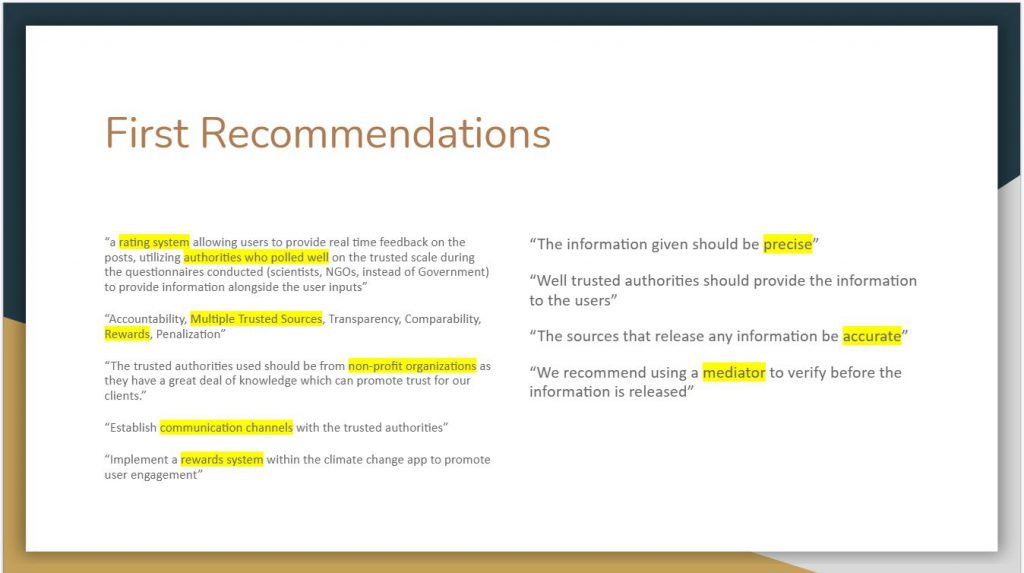 One of the key obstacles to individuals taking personal action to prepare for climate change impacts and disasters is that they may lack trust in the guidance they are given by authorities. Even the concept of "trusted authorities" is challenging because trust is obviously very subjective. In order to build a useful software solution that could encourage individuals to take action, we asked the Ontario Tech University students to help advance our understanding of this critical obstacle and its various facets.
Led by Professor Stephen Marsh, the course explored these issues and obstacles in insightful and fascinating ways. They contributed greatly to our understanding and made numerous useful suggestions. They helped us gain a better understanding and definition of trusted authorities, introduced us to the concept of "trusted intermediaries", proposed different intermediary frameworks and tools, and began the definition of a trust framework based on Ostrom's principles for managing common pool resources. They even suggested the potential of blockchain technology to ensure the reliability of provided information as well as providing other practical recommendations that could be used to build an information portal for the public.
Overall, the course produced an excellent evaluation of the issues, opportunities, academic research, and viewpoints. We feel we have substantially advanced our understanding of the role of trust in climate change solutions and provided tremendous value while delving into incredibly complex and sophisticated subject area. Highly recommended!
We would like to thank Fega Ofovwe and the other students as well as Professor Stephen Marsh in the course INFR4611U Trust Systems.
* For privacy reasons, we only list people who gave us permission to do so. Did you contribute to this project? Contact us to be added!
OASIS: Software Solutions for Climate Change Problems
Software can help the world respond to climate change impacts and disasters.
In 2019 we set out to investigate if there is a need for a solution that gives citizens personalized help preparing for and recovering from climate change impacts and lets trusted authorities assist them and report on their results.
As part of this effort, a great deal of market and technical research was conducted over the last few years. Over 140 students have been involved so far, in dozens of academic institutions in Canada and internationally.
Our greatest finding is the willingness of citizens to take responsibility and help themselves, their neighbors and community plan for, mitigate and recover from climate change impacts and disasters. We also confirmed that a software solution can be built to help overcome the barriers they face when trying to do so.
Now we're working on a prototype and sharing our findings and progress. Find out more on our OASIS project website!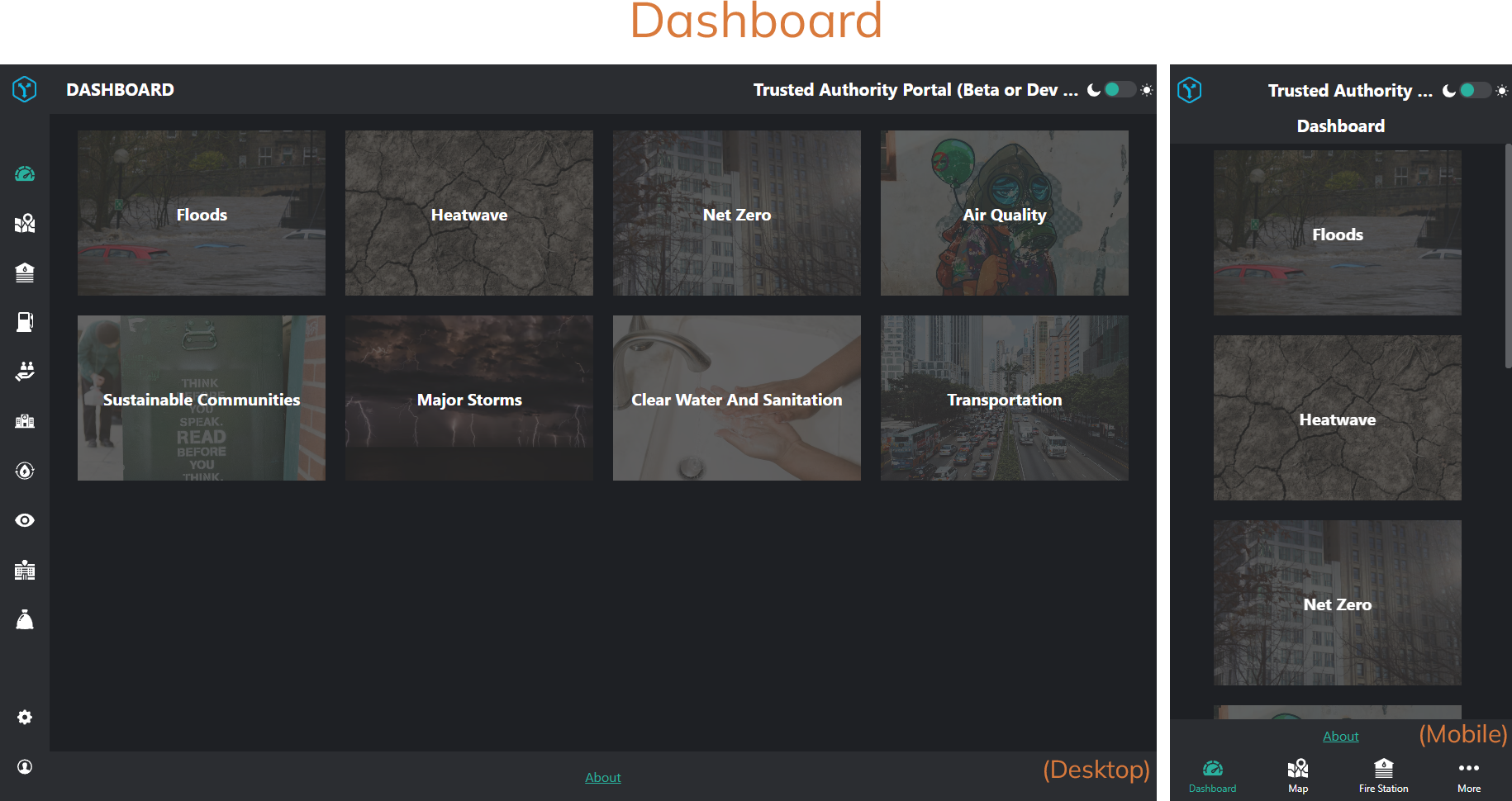 The University of Ontario Institute of Technology, corporately branded as Ontario Tech University or Ontario Tech, is a public research university located in Oshawa, Ontario, Canada. Ontario Tech's main campus is located on approximately 400 acres of land in the northern part of Oshawa. Riipen is your online platform for virtual project-based learning
Get hands-on support from our students through an in-class project or virtual internship.
In-class projects allow you to connect with one of our educators to embed your project into the students' curriculum. Become the real-life case study for students in the classroom!
Virtual internships are similar to in-person internships, except they are project-based with a clear outcome and the engagement is primarily done online.